R_P wrote:
KarmaKarma wrote:
Trusted sources. Hilarious gymnastics and hair splitting in service of... denial.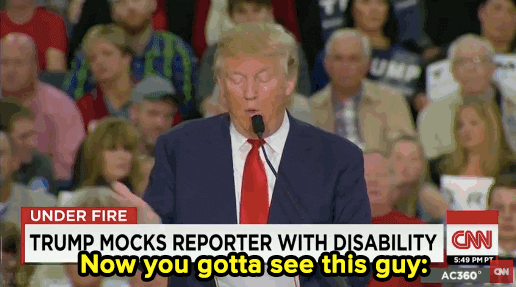 After referring to Kovaleski as "a nice reporter," Trump launched into an impression of him, pointedly flopping his right arm around with his hand held at an odd angle while saying (in imitation of Kovaleski): "Now, the poor guy, you've got to see this guy: 'Uhh, I don't know what I said. Uhh, I don't remember,' he's going like 'I don't remember. Maybe that's what I said'" (...)

After Trump then became the center of a second, even bigger controversy for supposedly having callously mocked a disabled reporter in public (that Trump was mocking Kovaleski was undeniable, but whether he was specifically mocking Kovaleski's appearance and disability was a subject of debate), Trump asserted that the whole thing was just a coincidence — he had no idea who Kovaleski was and thus couldn't have been aware of his physical condition (...)

Trump's claims to non-memory were widely considered to be disingenuous, as Kovaleski had covered Trump extensively while working for the Daily News from 1987 to 1993 and had interviewed and talked to the business magnate numerous times during that period:


Donald and I were on a first-name basis for years. I've interviewed him in his office. I've talked to him at press conferences. All in all, I would say around a dozen times, I've interacted with him as a reporter while I was at The Daily News
Compulsive denial. And cowardice.
Rote jackassery. And projection.